During your one-month honeymoon in Italy you will stay in 4* hotels while mesmerising yourself in the magnificent, dramatic landscape and vibrant seaside atmosphere of southern Italy, enjoy and relax. Holding each other hands and discovering the tiny isles in the old town. A wonderful all-inclusive package for your honeymoon.
In this exclusive one month honeymoon package, we choose the best places in Italy where you can experience living in Italy in the most authentic places. Place you might stay such as:
Napoli
Your trip will start in Naples, which is the gateway to southern Italy and the ideal starting point for your journey into authentic Italian culture. Numerous other well-known locations, like Pompeii, Capri, and Sorrento, are also nearby. They are a UNESCO World Heritage site that dates back to 470 BC and has outstanding features like three enormous castles, a royal palace, and more churches and cathedrals than you could explore.
Sorrento
Being a well-liked tourist location, Sorrento is brilliant and deserves to stand out on its own. The Church of San Francesco and the Piazza Tasso, surrounded by a local restaurant, nevertheless exude a romantic aura. Also, the Museo Correale and Muta provide insight into the region's ancient customs and history. Additionally, it is the ideal location to stay if you wish to take a boat trip to the Amalfi Coast or Capri.
Alberobello
Alberobello is a must-visit when you want to explore the south of Italy, The Trulli, or classic dome-shaped houses made of local stone, also the traditional Pugli olive orchards and vineyards surround the town, make Alberobello a wonderful site to explore.
Lecce
Lecce is well known for its beauty. Here you can explore such as The Basilica di Santa Croce, the Porta Napoli, and the Duomo, and these are just a few of the stunning old buildings here. More, Lecce is in a great location and close to several attractive and fascinating seaside towns, like Gallipoli.
Calabria
Calabria is a place which has wide beaches along the Tyrrhenian Sea on the west coast and the Ionian Sea on the east coast, also has stunning cliffs, coves, and bizarre rock formations. You probably barely hear about this place, but if you want to know about the real Italian culture, this place is a must
Sicily and Palermo
Sicily is recognized as a magnificent vacation destination, from the bustling metropolis of Palermo to the hilltop city of Taormina to Trapani in the west. On this Island, you can find beaches, mountains, active volcanoes, and even skiing in the winter. The archaeological site is rich here due to its history. Sicily was a residence for the Greeks, Romans, Arabs, Normans, Spanish, and many more.
Rome
Finally, you will visit the capital of Italy, Rome is a fantastic blend of history, archaeology, art, religion and religious culture, as well as amazing food. While it is unquestionably the most visited location in Italy, it has also managed to stay authentic and is still very much a place where locals live. You find why they called it Eternal city.
Accommodation, Professional guide, Transport, Hotel pick-up and drop-off
Tips for guide – Insurance – Personal expenses – hotel tax
Customer Cancellation
Day Tour and Small Group Tours:
If you cancel 3 days or more before the tour, you will receive a full refund minus the administrative expenses.
Administrative expenses are subject to change based on the total amount and number of tours booked. Please contact our team at [email protected] with any questions.
VIP Tours, Transfer Tours & Group Tours:
If you cancel more than 8 days before the tour, you will receive a full refund minus administrative fees.
From 7 to 4 days, you'll get a 50% refund.
If you cancel within three days and do not show up, you will not be refunded.
Administrative expenses are subject to change based on the total amount and number of tours booked. Please contact our team at [email protected] for any questions.
Force majeure
In the event of a cancellation due to force majeure, please notify [email protected] by email. We might issue you a voucher for the entire sum paid or depending on the agreement.
Suite Travel Cancellation
We will only cancel excursions in the event of unforeseen events beyond our control that may risk your safety. If your tour is cancelled, we will offer you alternate options such as a different day, a different trip, or a complete refund if none of the options is suitable for you.
Hi Suiters :-) I am really sorry not to have written to you before to say thank you for looking after us so well The trip went really well and your services were great. Sorry not to have written to you before – I had to go to Canada the day after I came back from Italy and only returned this week. Thank you for all the arrangements. Everything has been really great!!! Guest were amazed. Thank you for everything. Maggi
Thank you! You made my trip so smooth and worry free. Making sure that everything was perfect and easy. You were always there whenever I needed something. And so personable too.
Thank you for your professionalism in putting together our wonderful itinerary – it certainly made that part of our trip very interesting and your selection of guides was fabulous. Again thank you – we would have no hesitation in recommending you through your website to any of our friends who were planning a visit to your beautiful part of Italy
Liza O'Connor
Los Angeles
Dear Girls, That is wonderful news about the free shuttle transfers. It will be greatly appreciated by all our participants. A big thank you for your efforts obtaining this concession on our behalf and all the perfect services you have booked!
Hi Giada, First of all thank you for the services that you provided. Thank you again for taking care of the clients who did manage to go to Italy! Hope to talk soon.
You made our visit so memorable!
Hola! El grupo todo bien Takeo, genial muy simpática y agradable con todo el mundo, quedaron muy contentos con ella y yo también. Totalmente recomendable! Los hoteles Perfectos y las excursiones fenomenales! Comentaros que siempre que necesite servicios en Italia seguiré contando con vosotras, como primera opción. Un saludo y muchas gracias por todo.
Thank you for your assistance and professionalism. Our trip in Rome was very interesting and your selection of guides and activities excellent!
Kelvin Johnson
Washington DC
With Suite Travel, we got a great deal and a great experience. We made inquiries about our reservation, and they handled it very well. The offer was exceptional and included excellent inclusions. We definitely will book our future travels with SUITE TRAVEL.
First of all, I want to thank Milena for all the help she provided me with planning our trip to Italy. You have made the trip stress free. We had a great time being away from home. Again thanks
We had a wonderful week in Italy. SUITE TRAVEL was brilliant and managed the whole thing. I can't wait to go back to Italy again. Thank you, we will book again.
What a wonderful trip we were provided with by SUITE TRAVEL. Such a fabulous accommodation, friendly staff, good itinerary and beautiful destination.
{{ reviewsTotal }}
{{ options.labels.singularReviewCountLabel }}
{{ reviewsTotal }}
{{ options.labels.pluralReviewCountLabel }}
Book With Extra Flexibility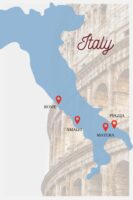 Find more inspiration with the rest of our experiences