Soaring rocky mountains, magnificent coasts, beaches, attractively assembled towns, amazing museums, and little villages inhabited by kindhearted and passionate people may all be found in Italy. In many ways, it is a fascinating country to visit. Our 9 days 8 nights holiday in Italy is designed to offer you wonderful memories. We'll start in Rome, the Eternal City, and then we continue the tour to the magnificence of southern Italy. Explore Lecce with its magnificent Baroque, Matera the world's most famous buried city, and Alberobello, the white village. You will only have beautiful recollections of Italy.
Day 1: Arrival in Rome
Arrival in Rome and check in at 4 stars hotel. Meeting with Suite Travel staff for an introductory briefing at the hotel. Dinner with typical Roman cuisine menu (included). Free program and overnight stay in Rome.
Day 2: Ancient Rome & Elegant aperitivo
Breakfast at the hotel. Explore Ancient Rome guided by private licensed guides. Start from Piazza Venezia, dominated by the imposing Vittoriano, a monument honouring the Unification of Italy. Then we will move to Campidoglio, the centre of the city's political life. After that, we will see the Imperial Fora, Colosseum, and Arch of Constantine, the opera dedicated by the Senate and the people to Constantine in 315 and palatine.  Finish in Circus Maximum, the biggest location for entertainment ever built. Lunch and afternoon at leisure time and free program. Aperitivo at UpSunset bar (included). An elegant terrace overlooking the view of Rome. The bar is on the roof of the Rinascente department store, a perfect place for luxury shopping.
Dinner at leisure and free time. Return to the hotel on your own.
Day 3: Best of Rome
Breakfast in the hotel and visit the most visited places of Rome with its wonderful views. We will start from Piazza di Spagna, surrounded by the Spanish steps and the Church of Santissima Trinità dei Monti. Move to the rococo masterpiece of the Trevi fountain. According to the myth, if you throw a coin here, you will come back to Rome. So, Throw a coin and fingers crossed!. We will proceed on to the Pantheon, built originally to honour the 7 divinities of Ancient Rome. Pantheon is considered a precursor to all modern places of worship and is the most copied of the classical buildings, with the largest brick dome in the history of architecture. The panoramic tour ends in Piazza Navona, built on the ruins of the Circus Domitian and embellished by Bernini's splendid Fountain of the Four Rivers. Lunch at leisure and free time during the afternoon.
Dinner at Restaurant "Da Meo Patacca" (included).  Where the waiters wear typical dresses to create a character and picturesque atmosphere of a nineteenth-century inn. There will be folk musicians performing a repertoire of Roman, Neapolitan and Opera songs. The rooms for the restaurant reflect a history steeped in art and tradition, each with its characteristic name.
After dinner, either return to the hotel via private bus or free time and then return to the hotel on your own (Trastevere has a very lively nightlife).
Day 4: Lecce
Breakfast at the hotel.
Departure to Lecce. Stop at Canosa di Puglia for quick lunch. Arrive in Lecce and meet with our expert guides for a two-hour guided tour of the historical centre of this beautiful baroque city. We will start the guided tour of Lecce from Sant'Oronzo square, where the remains of a partially buried Roman amphitheatre are located. After that, walking through the centre, we will discover the magnificent Baroque architecture of its buildings and the most emblematic monuments of this wonderful city, such as the Cathedral of Lecce and the Basilica of Santa Croce, two temples that shine their light unbelievable. 
Finally, we will reach a traditional bakery to taste some typical sweets. Can you imagine a sweeter way to end our Lecce guided tour?. Transfer to 4 stars hotel and check-in.
Dinner at leisure, and you can return to the hotel on your own for the night.
Day 5: Borgo Egnazia and Alberobello
Breakfast at the hotel, meet with our expert guides and departure to Ostuni. The "white city" sits atop the last hill of the southern Murgia plateau. We will walk through the medieval streets lined with whitewashed buildings, finished in the sophisticated 15th century Gothic Cathedral. Not only an open-air museum but also a vibrant city, with wonderful hotels, nice restaurants, cafes and ice cream shops. End of the tour and departure to Borgo Egnazia. A unique resort that resembles a typical rustic village. Several celebrities (including Madonna, the Beckhams, Justin Timberlake and Jessica Biel) have chosen this resort for their holidays and celebrations. 
Continue to Alberobello, the capital of the Trulli, the cone-shaped houses characteristic of Puglia make the most enchanting part of the heel of Italy. Alberobello is a UNESCO World Heritage Site since 1996 and is certainly a landmark of Puglia. During the trip to Valle d'Itria, we will cross the beautiful and idyllic countryside that surrounds the cities, with its breathtaking views on the trulli. Then, in Alberobello, we will go off the beaten track to discover the most evocative and authentic corners.
End of the tour and back to the hotel.
Diner in Otranto (included), the most Eastern city in all of Italy, a coastal town with a splendid ancient city centre and a beautiful castle. Free time to explore the city centre and then return back to the hotel via private bus for the night.
Day 6: Gallipoli and beach 
Breakfast at the hotel. Meeting with our expert guides and departure to Gallipoli. Tour of Gallipoli, a charming coastal town rich in history for its Greek roots and its wonderful Baroque and Renaissance buildings. We will walk through the alleys of the historic centre, connected to the mainland by a seventeenth-century bridge. We will admire the courtyards and palaces of what was once one of the richest cities in southern Italy in the 16th century. The magnificent cathedral dedicated to Santa Agata, hosting over 80 canvases painted by the most talented masters of the period, is considered one of the most beautiful churches in the Salento area.
The city is also known for its traditional underground oil mills that we will visit. Until the 19th century, the city was very famous for the production of oil for lamps, used for the street lamps of the great European capitals. After the visit, time at leisure to relax and for shopping. We will be able to taste the delicious "pasticciotto", a short pastry filled with custard and black cherry. During our visit, we will discover in-depth the popular phenomenon of "pizzica", the popular music of local tarantella joining ancient dancing rites.
Transfer via private bus to a beach nearby (to be confirmed based on weather, the weather should allow to sunbathe and swim in the sea)
Dinner at Masseria Caradonna, a beautiful location in a restored farmhouse (included)
Return to hotel via private bus and overnight stay.
Day 7 – Matera
Breakfast, check out and departure to Matera. Arrive and have lunch at leisure and free time. Next, meet with our expert guides and start a guided tour of the city recognized as a UNESCO World Heritage Site since 1993 for the uniqueness of the stones: ancient districts whose houses have been carved into the limestone rock. Tour of the historic centre and the Sasso Barisano, the oldest part of the city. Finish the tour and check in at the 4* hotel. 
8 day – Cooking class at Viceconte Palace
Breakfast at the hotel and today will be a day of Cooking class at Viceconte Palace. With this cooking class, we will venture into the kitchen of a well-known local chef, to prepare the typical dishes of the Matera cuisine. A Taralli challenge will allow participants to assess their skills in creating the famous Taralli. Homemade pasta which always fascinates and amuses all our guests could not miss. The culinary experience is carried out in the elegant setting of Viceconte Palace, one of the ancient noble palaces of old Matera, and ends with the tastings of typical dishes prepared during the lesson and tasting of limoncello, served on the beautiful palace's terrace overlooking the Sassi.
Departure to Rome by private bus. 
Upon arrival, check in at 4 stars hotel and overnight stay in Rome.
Dinner at leisure and free time.
9 day – The End of the tour
Breakfast at the hotel and check-out.
Accommodation, Professional guide, Transport, Hotel pick-up and drop-off, Gratuities
Tips for guide – Personal Expenses – Insurance
Customer Cancellation
Day Tour and Small Group Tours:
If you cancel 3 days or more before the tour, you will receive a full refund minus the administrative expenses.
Administrative expenses are subject to change based on the total amount and number of tours booked. Please contact our team at [email protected] with any questions.
VIP Tours, Transfer Tours & Group Tours:
If you cancel more than 8 days before the tour, you will receive a full refund minus administrative fees.
From 7 to 4 days, you'll get a 50% refund.
If you cancel within three days and do not show up, you will not be refunded.
Administrative expenses are subject to change based on the total amount and number of tours booked. Please contact our team at [email protected] for any questions.
Force majeure
In the event of a cancellation due to force majeure, please notify [email protected] by email. We might issue you a voucher for the entire sum paid or depending on the agreement.
Suite Travel Cancellation
We will only cancel excursions in the event of unforeseen events beyond our control that may risk your safety. If your tour is cancelled, we will offer you alternate options such as a different day, a different trip, or a complete refund if none of the options is suitable for you.
Hi Suiters :-) I am really sorry not to have written to you before to say thank you for looking after us so well The trip went really well and your services were great. Sorry not to have written to you before – I had to go to Canada the day after I came back from Italy and only returned this week. Thank you for all the arrangements. Everything has been really great!!! Guest were amazed. Thank you for everything. Maggi
Thank you! You made my trip so smooth and worry free. Making sure that everything was perfect and easy. You were always there whenever I needed something. And so personable too.
Thank you for your professionalism in putting together our wonderful itinerary – it certainly made that part of our trip very interesting and your selection of guides was fabulous. Again thank you – we would have no hesitation in recommending you through your website to any of our friends who were planning a visit to your beautiful part of Italy
Liza O'Connor
Los Angeles
Dear Girls, That is wonderful news about the free shuttle transfers. It will be greatly appreciated by all our participants. A big thank you for your efforts obtaining this concession on our behalf and all the perfect services you have booked!
Hi Giada, First of all thank you for the services that you provided. Thank you again for taking care of the clients who did manage to go to Italy! Hope to talk soon.
You made our visit so memorable!
Hola! El grupo todo bien Takeo, genial muy simpática y agradable con todo el mundo, quedaron muy contentos con ella y yo también. Totalmente recomendable! Los hoteles Perfectos y las excursiones fenomenales! Comentaros que siempre que necesite servicios en Italia seguiré contando con vosotras, como primera opción. Un saludo y muchas gracias por todo.
Thank you for your assistance and professionalism. Our trip in Rome was very interesting and your selection of guides and activities excellent!
Kelvin Johnson
Washington DC
With Suite Travel, we got a great deal and a great experience. We made inquiries about our reservation, and they handled it very well. The offer was exceptional and included excellent inclusions. We definitely will book our future travels with SUITE TRAVEL.
First of all, I want to thank Milena for all the help she provided me with planning our trip to Italy. You have made the trip stress free. We had a great time being away from home. Again thanks
We had a wonderful week in Italy. SUITE TRAVEL was brilliant and managed the whole thing. I can't wait to go back to Italy again. Thank you, we will book again.
What a wonderful trip we were provided with by SUITE TRAVEL. Such a fabulous accommodation, friendly staff, good itinerary and beautiful destination.
{{ reviewsTotal }}
{{ options.labels.singularReviewCountLabel }}
{{ reviewsTotal }}
{{ options.labels.pluralReviewCountLabel }}
Dolce Vita Roma to Matera
Book With Extra Flexibility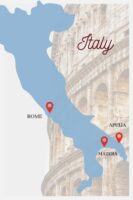 Find more inspiration with the rest of our experiences