Visit the very best and most beautiful cities in Italy, learn about their fascinating history, sightseeing old architecture, and enjoy the vibrant passionate culture. Exclusively created for your ultimate trip to Italy.
Day 1:
Arrive at the Rome airport and meet our Suit Travel Representative. Check in at your hotel. Begin your journey by seeing the must-see sights of The Eternal City. We'll take you to the Colosseum, the very icon of Ancient Rome and indisputably one of the finest specimens of Roman architecture and engineering, as well as the Roman Forum and Piazza Venezia. After lunch continue your exploration of Rome's landmarks, such as the Trevi Fountain, the Pantheon, the oldest Roman temple, and Piazza Navona. 
Dinner at your leisure, then go back to the hotel with private shuttle or on your own.
Day 2:
Breakfast is available at the hotel. We begin with a tour of the Vatican Museums, where you will be stunned by Michelangelo's world-famous Sistine Chapel, Last Judgement, and Raphael Rooms.  You'll take a stroll around the best of the art and antiquities collection, making sure you don't miss any of the treasures. Take a break and eat lunch near the Vatican at a neighbourhood restaurant. The adventure continues with a visit to the popular pilgrimage site of St. Peter's Basilica. The Renaissance art, elegance, and architecture here will surprise you and continue to visit the Grottoes and St. Peter's tomb. Climb to the top of the dome for a bird's-eye view of the interiors of the cathedral and the surrounding city.
Dinner in leisure time, back to the hotel with the private transfer or you can go back on your own.
Day 3: 
After checking out of the hotel, we will transfer you to Florence. You will take a walking tour of Florence here. The Piazza Della Signoria, Palazzo Vecchio, the square's most iconic structure, and the Piazza del Duomo, where the Basilica of Santa Maria del Fiore and the Baptistery of San Giovanni Battista are located. They are among the city's most prominent piazzas and landmarks. Lunch at a local restaurant, where you can sample Florentina steak. Continue your journey to Ponte Vecchio, one of the world's oldest bridges. The last stop in Piazzale Michelangelo, Florence's most famous sunset viewing spot. 
Dine-in a Tuscan restaurant and don't forget to sample the best wine in Italy, Tuscany wine. In Florence, spend the night.
Day 4: 
Hotel breakfast, check out, and transfer to Venice. We'll take you on a tour of Venice, the Adriatic's queen. Our guided trip will take you to the little isles and the Gothic masterpiece known as The Doge's Palace. We then continue to San Marco, which is home to some of Venice's most renowned attractions, including numerous historic monuments and The Bridge of Sigh. Lunch will be served in a neighbourhood restaurant with a canal view. You can also take a Romantic Gondola ride in Venice, as shown in numerous movie sequences. 
You are free to wander little isles and return to the hotel at your leisure after dinner.
Day 5:
Check out of the hotel and transfer to Verona after breakfast. Verona is famous for being the setting for Shakespeare's Romeo and Juliet. Our tour will take us to the must-see areas of Verona, such as the Arena di Verona, the Ponte Scaligero, and the Lamberti Tower. Lunch at a local eatery and gelato on the way to Juliet's house, which is tucked away in a back alley. You'll find walls covered in love notes, and you might even get a response if you write Juliet a letter. 
Dinner at your leisure, free time to explore Verona on your own, and an overnight stay in Verona.
Day 6
Hotel breakfast Check out of the hotel and travel to Milan by train. Visit the Castello Sforzesco, the magnificent Piazza del Duomo with its Cathedral, and shop in Galleria Vittorio Emanuele II, the world's oldest retail mall. Take your time shopping in Milan, as it is an international fashion capital. We still have La Scala and San Babila Square to see, so lunch at a nearby eatery is on the cards. 
You are free to promenade across the little isles and return to the hotel at your leisure after dinner.
Day 7
Breakfast at the hotel, Check out, transfer to Airport and departure.
Accommodation, Professional guide, Transport, Hotel pick-up and drop-off
Tips for guide – Insurance – Personal expenses – Gondola ride
Customer Cancellation
Day Tour and Small Group Tours:
If you cancel 3 days or more before the tour, you will receive a full refund minus the administrative expenses.
Administrative expenses are subject to change based on the total amount and number of tours booked. Please contact our team at [email protected] with any questions.
VIP Tours, Transfer Tours & Group Tours:
If you cancel more than 8 days before the tour, you will receive a full refund minus administrative fees.
From 7 to 4 days, you'll get a 50% refund.
If you cancel within three days and do not show up, you will not be refunded.
Administrative expenses are subject to change based on the total amount and number of tours booked. Please contact our team at [email protected] for any questions.
Force majeure
In the event of a cancellation due to force majeure, please notify [email protected] by email. We might issue you a voucher for the entire sum paid or depending on the agreement.
Suite Travel Cancellation
We will only cancel excursions in the event of unforeseen events beyond our control that may risk your safety. If your tour is cancelled, we will offer you alternate options such as a different day, a different trip, or a complete refund if none of the options is suitable for you.
Hi Suiters :-) I am really sorry not to have written to you before to say thank you for looking after us so well The trip went really well and your services were great. Sorry not to have written to you before – I had to go to Canada the day after I came back from Italy and only returned this week. Thank you for all the arrangements. Everything has been really great!!! Guest were amazed. Thank you for everything. Maggi
Thank you! You made my trip so smooth and worry free. Making sure that everything was perfect and easy. You were always there whenever I needed something. And so personable too.
Thank you for your professionalism in putting together our wonderful itinerary – it certainly made that part of our trip very interesting and your selection of guides was fabulous. Again thank you – we would have no hesitation in recommending you through your website to any of our friends who were planning a visit to your beautiful part of Italy
Liza O'Connor
Los Angeles
Dear Girls, That is wonderful news about the free shuttle transfers. It will be greatly appreciated by all our participants. A big thank you for your efforts obtaining this concession on our behalf and all the perfect services you have booked!
Hi Giada, First of all thank you for the services that you provided. Thank you again for taking care of the clients who did manage to go to Italy! Hope to talk soon.
You made our visit so memorable!
Hola! El grupo todo bien Takeo, genial muy simpática y agradable con todo el mundo, quedaron muy contentos con ella y yo también. Totalmente recomendable! Los hoteles Perfectos y las excursiones fenomenales! Comentaros que siempre que necesite servicios en Italia seguiré contando con vosotras, como primera opción. Un saludo y muchas gracias por todo.
Thank you for your assistance and professionalism. Our trip in Rome was very interesting and your selection of guides and activities excellent!
Kelvin Johnson
Washington DC
With Suite Travel, we got a great deal and a great experience. We made inquiries about our reservation, and they handled it very well. The offer was exceptional and included excellent inclusions. We definitely will book our future travels with SUITE TRAVEL.
First of all, I want to thank Milena for all the help she provided me with planning our trip to Italy. You have made the trip stress free. We had a great time being away from home. Again thanks
We had a wonderful week in Italy. SUITE TRAVEL was brilliant and managed the whole thing. I can't wait to go back to Italy again. Thank you, we will book again.
What a wonderful trip we were provided with by SUITE TRAVEL. Such a fabulous accommodation, friendly staff, good itinerary and beautiful destination.
{{ reviewsTotal }}
{{ options.labels.singularReviewCountLabel }}
{{ reviewsTotal }}
{{ options.labels.pluralReviewCountLabel }}
Book With Extra Flexibility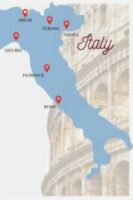 Find more inspiration with the rest of our experiences